I used to bleach and dye my hair pretty colours, here's some photos of old me!!!
Aqua and Lilac, Cerise and then standard Black (looking a bit crazy lol)
but then one day I over did the bleach and frazzled my hair! So I have had to go back to a standard colour and give my hair a bit of a rest, which is sad as I miss my pretty hair. Its been about 6 months now and I'm feeling a bit fidgeting on the colour front
When I saw Kaelahs' pretty pink wig I was sold!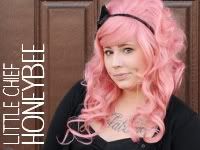 and with all the Etsy seller fiasco I sadly popped over to eBay to get one shipped from China, what a bargain! As much as I hate buying like that, and would much rather purchase from a independent seller and creator, but hey ho!
So here's the new me with wig! Quite amusing, but I love having pink hair again and strangely long hair, as I normally hate my hair if it goes over my shoulders, so I have a feeling I might be deciding to grow it out.
Really looking forward to it and have loads of new goodies to show, will put up some sneak peeks tomorrow after I have finished them!!!